Wednesday, September 22, 2004
Thyme and Cheesy Potato Fritters
Sylvana is on a fritter kick! MORE FRITTERS! HIDE THE CAT, BEFORE SHE GOES FRITTER INSANE!
A 24 oz bag of cheap, frozen hashbrown potatoes- the loose variety, not the preformed
2/3-1 cup flour
a couple tablespoons of dried thyme or chopped fresh thyme
1/4 cup dried milk- you could also use sour cream or plain yogurt. I was going to use sour cream, but mine was unfortunately expired :(
a pinch or two of cayenne pepper, cause I do like the spice!
sea salt
black pepper
a clove garlic chopped up itty-bitty
1/2 medium onion chopped up itty-bitty, GET VADALIA IF YOU CAN!! BEST ONION EVER!! If you can't then get Walla Walla, or use shallots. You need a mild, sweet onion.
One egg
a palm full of grated parmesan
a palm full of grated co-jack
olive oil
goggles and/or shield

The brand of hashbrowns I used was Mrs. Dee's. Got them two for a dollar, I think. Now that's cheap! They aren't too bad fried up on their own, but I far prefer
the Oreida hashbrowns. Put the hashbrown potatoes in a large mixing bowl. I defrosted them a little, just until all the potato pieces were separated.

Dump in the flour, thyme and dry milk and mixed it up thoroughly. If you are using sour cream or yogurt, I would wait to add it with the egg. Sprinkle cayenne over the top and mix it in. Do the same with the salt and pepper. If you don't have sea salt, you can use regular salt. But then you must make sure to get that on your shopping list. Many Chinese markets have this salt for next to nothing. I think I paid about 50 cents a bag for mine. Get it. You'll thank me.

You could grate the onion, but you will most likely regret it. I slice the onions very thin then think about someone I hate and chop the hell out of them… er, the onion- I chop the hell out of the onion. I do the same with the garlic. I am assuming that you know that you are supposed to peel both of these first. Throw the itty-bitties into the mix and stir until they are well acquainted with everything.

Now it is time to moisten things up a bit. You can scramble the egg first, but that sounds like extra work. I like my food rustic, so I just cracked it right into the bowl and stirred like mad. If you were using sour cream or yogurt, you would add that at the same time. Don't worry if the potatoes look like they are taking a beating- they like it rough. The batter should be just moist, not soupy (you can add a little more flour to remedy too much liquids). If it looks a little dry, you can add a little milk, water, or more sour cream or yogurt. Dealer's choice no matter what you put in the recipe to begin with.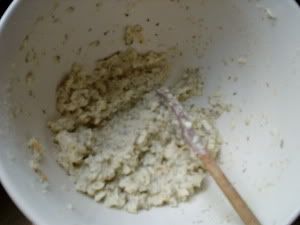 Once you have it the consistency that you want, stir in the cheeses.

Heat up a couple tablespoons of extra virgin olive oil, cause you only live once, in a pan over medium heat. Put on the goggles, get your shield at the ready, or at the very least be prepared to quickly throw up your hands to defend yourself. Yeah, cause there is a lot of water still floatin around in these and the oil will try to burn your eyes out in a fit of vengeful rage. Spoon the mix into the pan. Spread it out a little to form a patty.
Fry on each side until golden brown and there is no batter coming out of them. Remove from heat and serve.

These got the SSB and JD seals of approval.

(The editor would like to add that "fritters of vengeful rage" would be an excellent name for a band.)
|
about this site
This is a site for recipes. And pictures of those recipes.
And helpful cooking tips. And for how to make the perfect margarita.
And anything else food and drink related you can think of.
If you wish to be a contributer, please click below and email me!
the evil chefs
recipe categories