Sunday, August 01, 2004
Regan and K try out Nicole's Red Curry Recipe
The
red curry recipe
looked very good, and I'd been wanting to try cooking thai food. so we gave it a try!
LOTS of veggies - red and green pepper, yukon gold potatoes, and onions.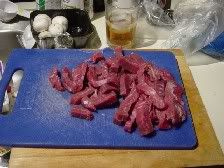 I used flank steak. It ended up being a little too chewy, so next time I'll try a better cut of beef.
Here's how it turned out. mmmmmm...very good. I used 2 tsp of the curry paste. It was
almost
too hot for me! Didn't really care for the rice noodles I bought. Next time I'll probably just have sticky rice with it.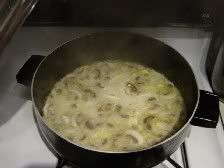 I tried to duplicate the soup that comes with the lunch specials from Thai Chili (place we order delivery from the lab). It's got mushrooms and soft tofu in it, with just a touch of a red chili oil. Here I saute'd some mushrooms, added two cups chicken broth and a can of coconut milk, and about half a block of cubed tofu. All I could find at the store was roasted chili oil, which wasn't as red, and the color faded. Next time I'll add less mushrooms and use less chicken broth. It was delicious, though.
Very good recipe, Nicole!!!
|
about this site
This is a site for recipes. And pictures of those recipes.
And helpful cooking tips. And for how to make the perfect margarita.
And anything else food and drink related you can think of.
If you wish to be a contributer, please click below and email me!
the evil chefs
recipe categories